Rollodons are a species of wild Dinotrux that are basically uncontrollable as the only word they can speak is "Roll" and can flatten anything in their path. However, they can be mundanely controlled as they are afraid of Tools.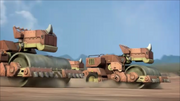 Physical Description
Edit
Rollodons are quadrupedal Dinotrux that move around on two wheeled feet and the front feet attached together to a rolling pin, a single nose horn, short frill, short tails, short bodies, elongated heads and square mouths.
Wild and rowdy, stubborn Dinotruxs with the simple purpose to "roll" over anything to find ore and making rocky terrains smooth traveling easier. Some reason they find Tools frightening to them, leading to avoid at all cost. In Season 3 Episode 1 "Slide", Rollodons can help Dinotrux with construction work if involved rolling over things or give them a safe way travel from Scraptors.
Trivia/Notes:
Edit
In Season 3 Episode 1 "Slide", Ty Rux successfully convinced a herd of Rollodons to help build a slide bridge with the other Dinotruxs.
Ad blocker interference detected!
Wikia is a free-to-use site that makes money from advertising. We have a modified experience for viewers using ad blockers

Wikia is not accessible if you've made further modifications. Remove the custom ad blocker rule(s) and the page will load as expected.