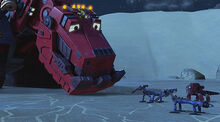 Picktools are a species of Tools which live in much colder areas.
Physical Description
Edit
Picktools usually live in groups, like most Tools, and they use their feet to slide across ice. They help Trux and other Tools by showing them where thin ice is, though they may initially seem to be trying to crack the ice under them.
Trivia/Notes
Edit
Like Slamtools (species), they communicate by banging their heads on the ground.
Picktools will appear in Dinotrux Supercharged season 4.