Gluphosaurs ( or Digluphosaurs ) are a species of Trux that are part Dilophosaurus, part glue gun. They have retractable frills and are able to spit glue from their mouths; the glue is very resistant to force and can be removed with salt.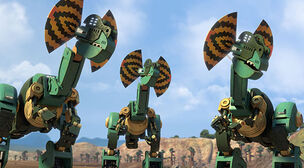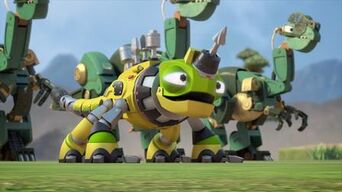 Social in a pack and aggressive to intruders, cautious around outsiders not their own and suspicious to other Dinotruxs. Until, Revvit fixed a fellow Gluphosaur named Stix and earning the trust of the pack.
Trivia/Notes:
Edit
They resemble Dilophosaurus from the film adaption of Jurassic Park.
One the only few bipedal Dinotruxs with claws or hands.
Chunk and Crunk know a crazy gluphosaur who comes around sometimes at their home giving them new rocks to eat.